Building belief
Built for the 1962 World's Fair, Seattle Center Arena—like the city itself—has always looked to the future. Success depended on figuring out how to build a sales experience for a city that cares more deeply about what the arena means rather than what's in it for them.
We focused on building belief rather than on the selling aspect, with the goal of inspiring local audiences by immersing them not only in the arena's dramatic transformation, but also by establishing a compelling vision for the city of Seattle.
Seattle's story like you've never heard it before
We were inspired not only by Seattle's forward-thinking spirit, but also by the arena's iconic slanted roofline. The result is an interactive journey that invites visitors to contribute towards the legacy of a city—and arena—where possibility is real.
Our storytelling installation celebrates sports, music, and community milestones while giving the NHL's Seattle sales team an opportunity to learn about guests' interests. Unexpected uses of technology are embedded throughout, with dichroic film amplifying light from cloudy skies, and layers of wood and glass adding dimension. Open and expansive, the preview center reflects the boundless vision of the Pacific Northwest.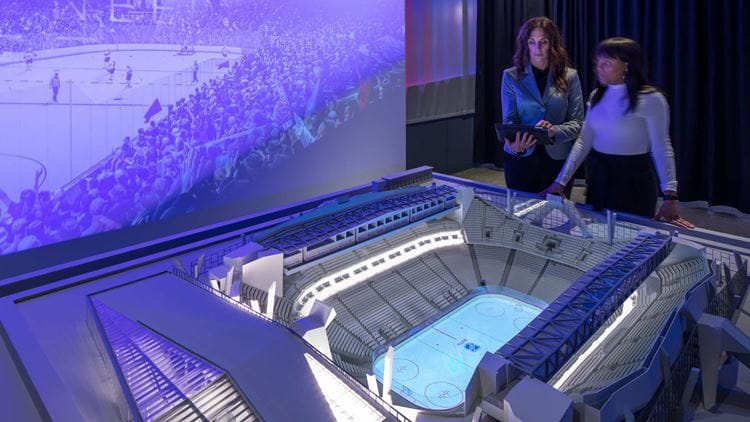 Creating and celebrating community within a city
From iconic gigs to sports comebacks and upsets, almost 60 years of unforgettable memories have been made under the Seattle Center Arena's sloped roof. Honoring a legendary past while laying the foundation for the defining moments to come, this arena continuously brings a city together time and time again— all under one roof.