Making a difference for tomorrow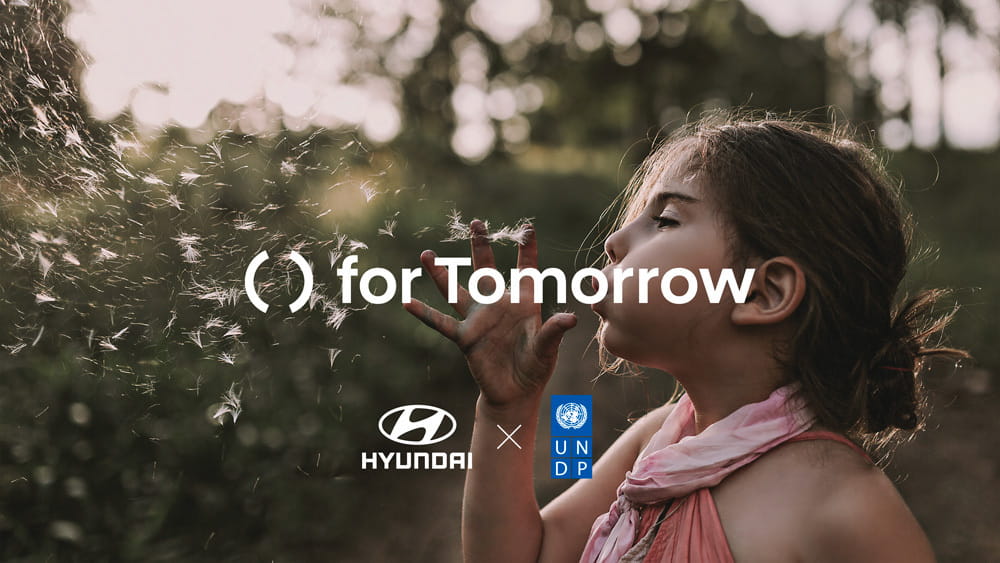 Initiatives like ( ) for Tomorrow don't come around often enough. It's the fruit of a collaboration between Hyundai Motor Company and the United Nations Development Programme that aims to tackle Sustainable Development Goal 11: Sustainable Cities and Communities by empowering everyone to act and help reach that goal. By connecting and aligning two of the world's most influential companies and organizations, a unique collaboration with infinite potential to act and drive change came to life, and it's something we are extremely proud of.
The key to bringing such large organizations together is to start by aligning their independent values and goals. Hyundai's global resources and leadership in sustainable mobility brings so much to the table to facilitate a partnership like this. At the same time, the United Nations Development Programme – one of the largest programs within the UN – is leading a changing approach to innovation across the globe through its global Accelerator Labs Network.
By working together, corporations, institutions and individuals around the world can contribute to building a fairer and more sustainable world. Given our current state of affairs around the world, whether it's climate change, racism and equality, women's rights, or political polarization, initiatives like this are at the forefront of a shift towards more direct and accountable brand action, as companies with power and influence are being summoned to contribute to world solutions (now no longer a nice-to-have on a mission statement, but an expectation). So while a mission of this magnitude is not new to us, the positive impact it can have on the world only reinforces the solutions we are looking to bring to life in the future. When it comes to creating work that matters, this one sits near the very top.
So what is ( ) for Tomorrow, exactly? It's a global innovation partnership we brought to life between Hyundai Motor Company and the United Nations Development Programme that elevates community-based innovation and empowers people from all communities to bring solutions forward and help address the world's escalating environmental and social crises.
As Hyundai's creative ally, Sid Lee facilitated and enabled this innovative collaboration with the United Nations Development Programme and developed content, a manifesto and a digital platform that serve as an ecosystem where contributors from communities everywhere can access and share information with the rest of the world seamlessly, and spotlight their grassroots innovations.
While we're just in the first chapters of such initiatives, global brands are also encouraged to show up and take on some of the world's biggest challenges. And more importantly, we're asking everyone to join us at fortomorrow.org, or follow @fortomorrow2030, to help advance the 2030 Sustainable Development Goals. We all have a role to play, whether by supporting the initiative, by finding and spreading inspiration, or by submitting solutions through the ( ) for Tomorrow's platform. Collectively, we have the opportunity to positively impact communities around the world by enabling action through the expertise of the United Nations Development Programme's.